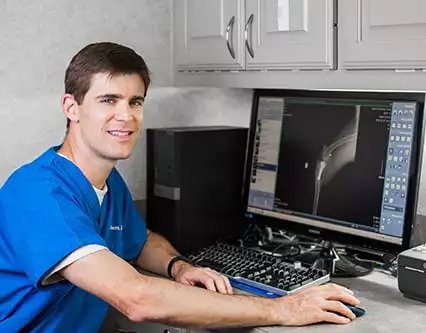 PET DIAGNOSTICS IN LONGVIEW, TX
Unlike human physicians, our patients can't explain their symptoms and even hide signs of illness. Veterinarians are skilled at interpreting the clues pets give us, but often physical exams alone are not enough to determine the source of an illness. For this reason, Taylor Veterinary Clinic maintains a state of the art diagnostic laboratory and digital radiography equipment (X-Rays) so we can diagnose and treat our patients more quickly and accurately. To maintain cutting edge care we also have relationships with reference laboratories and many specialist if your pet's condition requires.
---
Taylor Veterinary Clinic uses the following in-house diagnostics to care for your pet:
On-Site Laboratory Testing:
Blood chemistry profiles
Complete blood cell counts
Urinalysis
Heartworm testing
Intestinal parasite screening
Infectious disease testing
Fungal cultures
Microscopic cytology
Radiography:
We use digital X-rays which allow lower amounts of radiation and provide more detailed images. We use them to detect many conditions, including:
Broken bones and Arthritis
Foreign body ingestion
Bladder stones
Heart and lung disease
Disease of the abdominal organs (liver, kidneys, spleen and intestines)
Cancer evaluation
We work hard to catch chronic disease early with wellness care and testing before it causes problems for our pets, but when unexpected concerns arise, we have the ability to address almost any issue.
Call us with any questions you have at 903-759-7611. Our team will assist you right away.
I won't be going anywhere else for the care of my baby! They love him as much as I do ! Thank you Taylor Vet Clinic you guys are #1 in my book 
-Lacy A.